HJCH ,HCH, HSCH, RCH.SGRCH. ISCH.C.I.E. Windy Charming Sweet Angel From The Patrician "Windy"
Hungária Jugend Champion, 2 x Derby Winner 2015 , Best Opposite Sex, Best of Breed

Cruft's qualification 2016, Res Best of Group, Transylvánia Winner 2015, Champion of Rumanien, Hungária Champion,

Hungária Show Champion , Champion of Serbia, InterShow Champion C.I.E.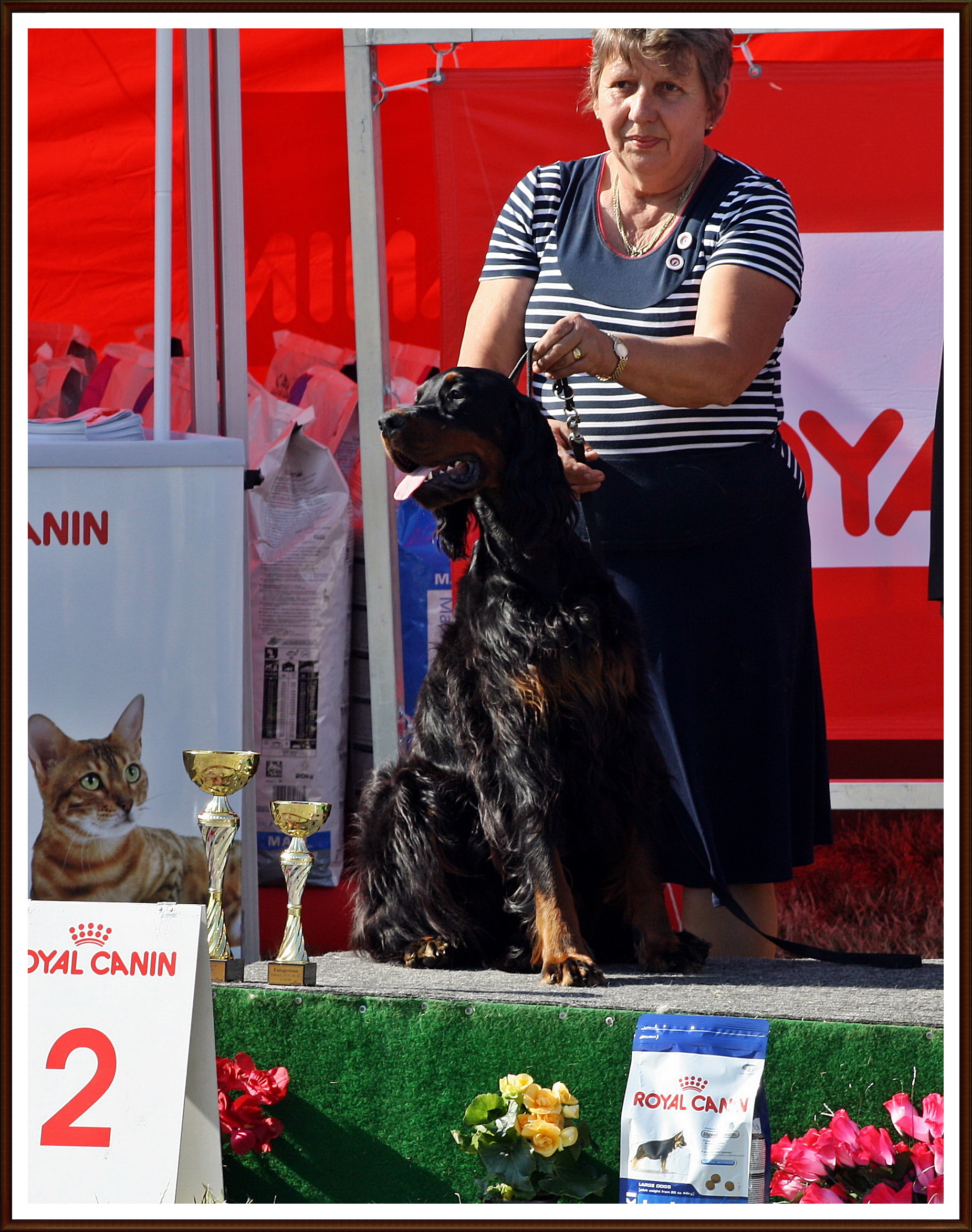 ISCH Sangerfield Earldom First "Chester - CH Sunsetter's How Deep Is Your Love "Rombi"
gordon szetter szuka , PRA:Carrier

2014. március 11.- 2021. június 27. 11 óra 18 perc
Fájdalommal irom eme sorokat. Megint az élet hülye játéka. Életvidám, játékos, imádni való kiskutyám, minden előzmény nélkül éjjel elalszik . Veled képzeltem el a nyugdijas éveimet, és veled zárom a gordon tenyészetet. Biztam benne, hogy hosszú életű leszel, hiszen ti ketten a testvéreddel Londonnal voltatok az utolsó gordon gyerekek, akiket megtartottunk. Az élet nem igy gondolta. Iszonyatos ürt hagytál magad után, talán még fel sem fogtam , hogy nem vagy többé. Várom, hogy kigyere a kertbe amikor kinnt vagyok, mert mindig körülöttem serte - pertéltél. És hiába várom nem jössz. Nagy csillag ragyon fenn az égen az vagy te. Ha felnézek látlak.
Édes Windykém az angyalok vigyázzák örök álmodat, örökké hiányozni fogsz.
pedigree
CH Sangerfield Earldom First "Chester"

HD:AA PRA.CLEAR

BISS,BIS Grand Ch.Aust
Triseter Ebonie Zeus

Ch.Aust,Am Brodruggan Black Knigh

Ch.Aust Triseter Ebonie Page

Int Ch, Grand Ch, Ch.Rus
Sangerfield Creme De La Creme

Ch.Net,WW-02 Triseter Ebonie Scot

Ch.Rus,Ch.Pl,Ch.VDH,VWW06,
Free Minds Cleopatra

CH,Sunsetter's How Deep Is Your Love "Rombi"




HD:A A

 

Ch Sunsetter´s Show Must Go On

WW '01 Int, Esp. Gib.Ch.
Ludstar Maranello

Gib.Dt,Esp.Ch
Sunsetter´s Take a Chance on

Black Mystery Heaven's Angel

Int, VDH, D, L Ch.
Sunsetter´s Just a Gigolo

Sunsetter´s Breakfast in America

Kiállítási eredmények
2015 február 13

FEHOVA CACIB
judge: Harsányi Péter (H)

2015 február 14

FEHOVA CACIB
judge: Calis Simu (RO)

2015 február 15

FEHOVA CACIB
judge: Szabó Sándor (H)

HPJ,

Best Junior

Hungária Jugend Champion

2015 április 12.

Pécs CAC
judge: Jaroslav Matyas (SK)

HPJ, Best opposite Sex,

BOS

2015 június 07.

NITRA CACIB
judge: Rui Oliveria (PT)

CAJC,

Derby Winner

,

BOS

,

Cruft's qualification 2016

2015.június 20

Velence CACIB
judge:Miklós Levente (H)


2015.július 18

Debrecen CACIB
judge:Carol Wright (AUS)


2015.augusztus 22.

Debrecen NIGHT CACIB
judge:Miguel Angel Martinez (ARG)


2015.augusztus 29.

Hódmezővásárhely CACIB
judge:Kardos Vilmos


2015.október 03.

ARAD CACIB
judge:Kardos Vilmos


CAC.CACIB.BOS, Transylvania Winner
Champion of Rumanien


2015.október.12.

Komárom Derby CACIB
judge:Cristian Stefanescu (RO)


2016.augusztus 28.délelött

Velence tó CAC
judge: Dr.Miklós Levente

CAC. Best Bitch.

BOB,

Hungária Champion,
Hungária Show Champion

2016.szeptember 16.

Kecskemét CACIB
judge: Szabó Sándor (H)

2016.október. 02.

Bacska Topola CACIB
judge: Nagy István (SGR)

CAC,CACIB,

BOS


Champion of Serbia
InterShow Champion C.I.E.


2020.március 25.

Online Dog Show Húsvéti Korona
judge: Erdős László (H)


Champion Class Winner