HJCH, SGRJCH,HCH,HSCH,HGRCH,SGRCH,RCH,ISCH.C.I.E. VETCH.
Wonderful Wilfred From The Patrician"Öcsi"


Res.Best In Show, 2x Veterán Best In Show III.
Hungária Jugend Champion, Román Champion, Szerb Champion, Hungária Champion, Hungária Show Champion, Hungária Grand Champion, InterShow Champion. C.I.E. Grand Prix Winner 2017, Veterán Champion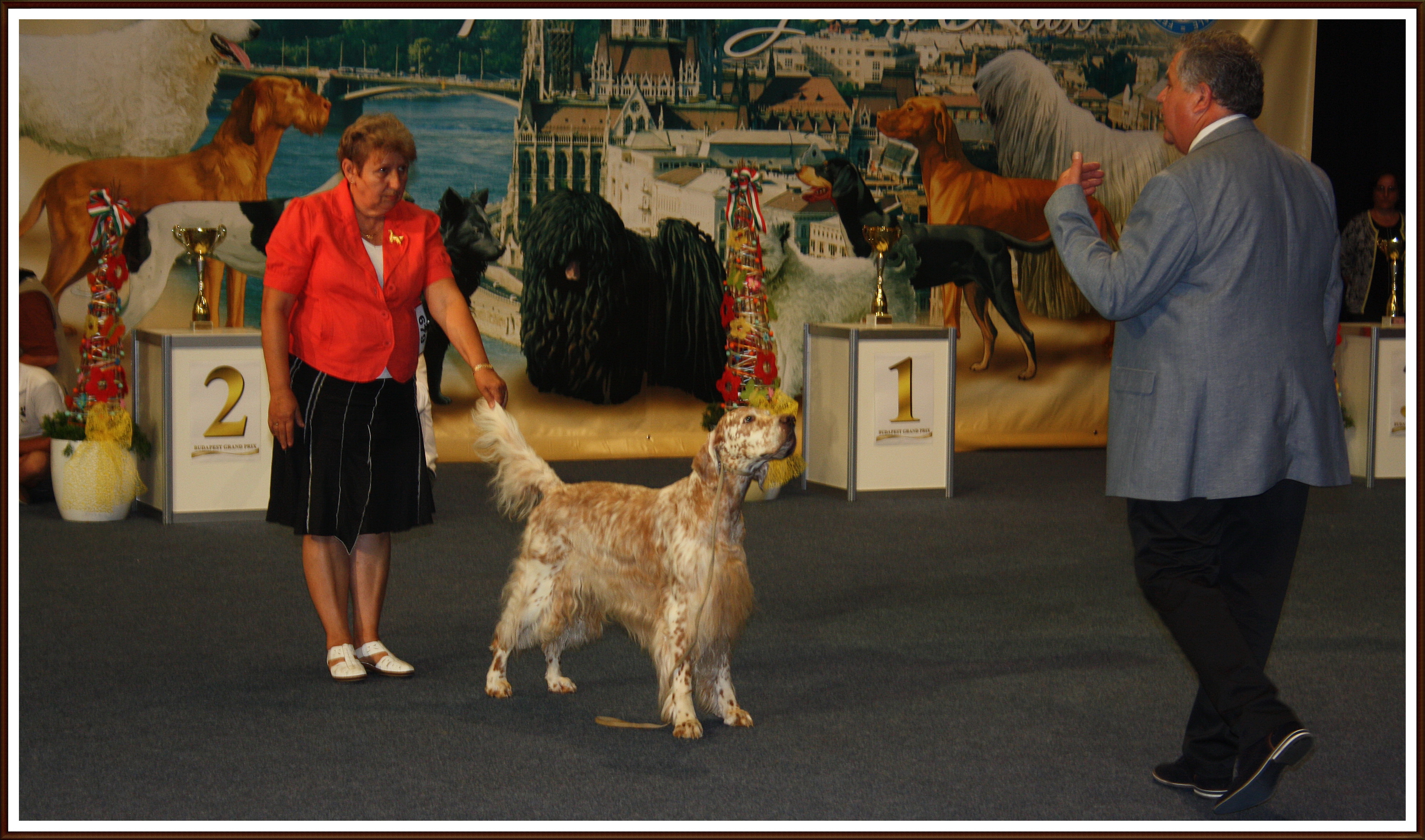 ISCH Fairray Five Star First Quality "Bad from the Patrician - ISCH Fairray Ectasy"Kyara" from the Patrician
angol szetter orange belton kan , komplett fogazat / full dentition,

született: 2010.május 18.

pedigree
HJCH,UKJCH,RCH,SGRCH,HCH,HSCH,ISCH,C.I.E.
 Fairray Five Star First Qualit
"BAD"
HD: AA   BAER normál

CH Baysides River Deep

CH Fieldplay's Bayside Izland Breeze

CH Fairray Bluemoon

CH Oakley's Bulletproof

CH Graylors Just a Bitch

HJCH, RJCH, HRJCH,RCH, SGRCHHCH. ISCH.CIE
 Fairray Ectasy "Kyara"
HD: AA  BAER normál

CH,WW.Fairray Sir Winston

CH.Fairray Zeppo

CH. Fairray Bluemoon

Fairray Borneo Brighton

CH Stagedoor Diamond O'Wyndswept

Fairray Zanza
Kiállítási eredmények
2017-től 3 évi kihagyás után


2017.április 29..

Grand Prix CACIB
judge:Dorothea Witkowska(PL)

2017.április 30.

Grand Prix CACIB
judge:Zafra Sirik (IS)

CAC.

CACIB. Grand Prix Winner 2017




2017.szeptember 17..

CACIB NITRA
judge:Piskay Vladimir (SLO)

CAC.CACIB. BOB.BOG III.
Intershow Champion C.I.E.


2018.június 10.

CAC. Velence-Agárd
judge:Jana Janekova (SK)
Sárközy Gyula (H)

Veterán CAC.Best Dog.

BOB

Veterán Best In Show III.

2018.június 24.

CACIB.Grand Prix Bp.
judge:Kiss Tibor ,Korózs András

Veterán CAC.Best Veterán

Veterán Best In Show III.

2018.december 02.

CACIB.President Dog Show
judge:Szabó Sándor

Veterán CAC.Best Veterán

new Veterán Champion